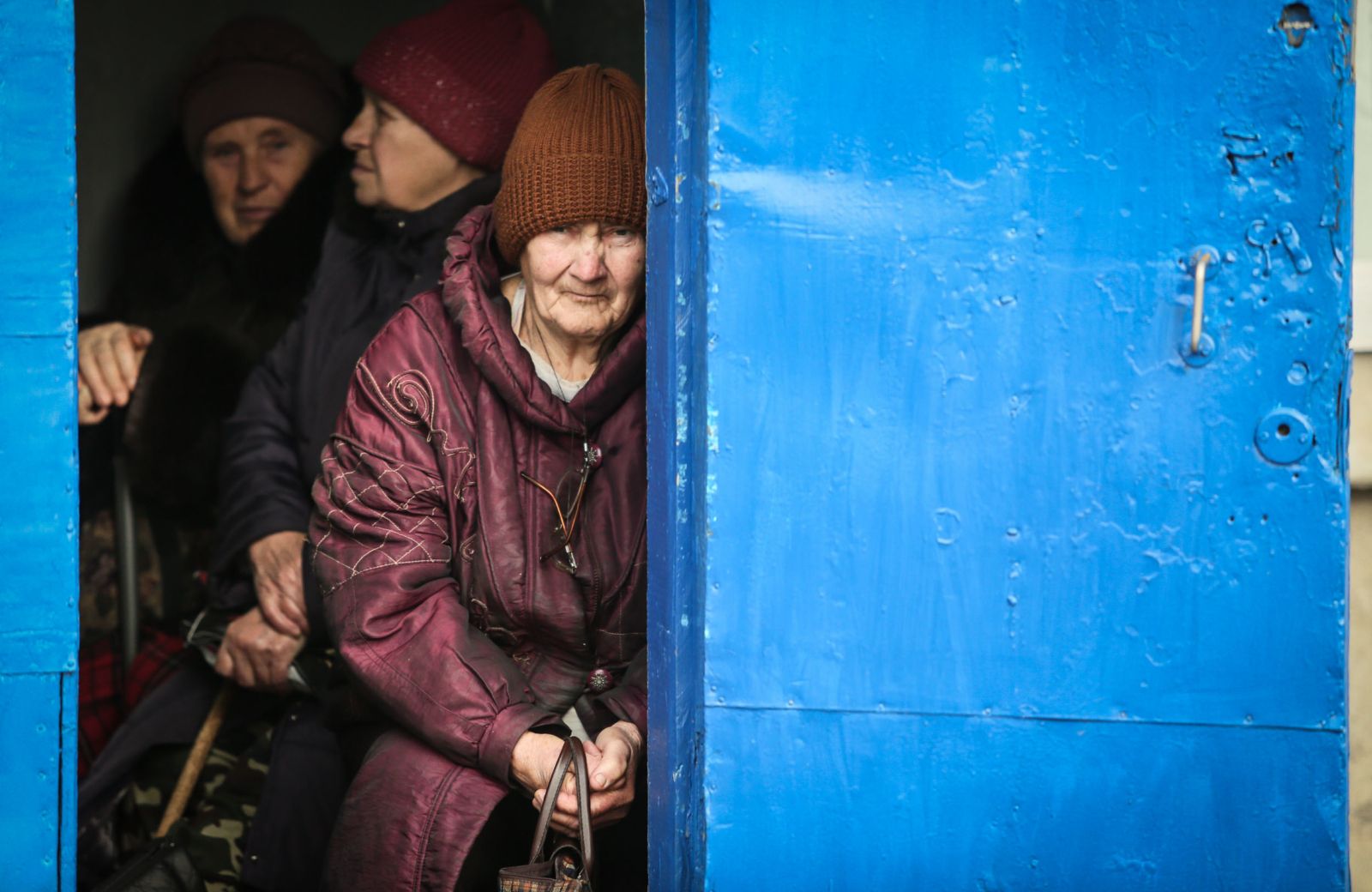 IZOLOTE 4, Ukraine — Liudmyla Mubarashkina, 71, sees her twin sister Yevheniya only once a month by the post office, where both women receive their monthly pensions.
Although they live in the same Luhansk Oblast town of Zolote 4, they cannot visit each other because of army checkpoints, which allow crossing only for residents who live on certain streets.
Mubarashkina used to visit Yevheniya and her older sister, bedridden 80-year-old Nina, at night walking by a side road that bypasses a checkpoint. But last November it led to a tragedy.
Her son Vadim, 46, stepped on a hidden landmine. He suffered multiple injuries and lost his right eye.
"These are the local people, who are mostly suffering now from this war," Mubarashkina said.
For her town of Zolote 4, also known as Mine Rodina, located in 700 kilometers southeast of Kyiv, this description is particularly true. It is one of five mining towns called Zolote, which are located nearby and distinguished by a number.
The town's 850 residents are unlucky to live between the final Ukraine's army checkpoints and the trenches of the Kremlin-backed forces in Luhansk Oblast.
So the locals are often targeted by shells or landmines and, unlike the soldiers, they don't have reliable shelters available. When the shelling starts, they either jump to the basement or sit at home, hoping to survive.
Mubarashkina, a former mine worker, had to cover the windows of her house with plastic film after all the glass was smashed by shelling last week. She's used to the war. Her four-story apartment house is located just in 500 meters from the Russian-separatist trenches.
Her son, who lives with her, works as a dispatcher at a local mine. He often has to sleep at his friends' homes because it's too dangerous to get home in the evening, when the shelling usually escalates.
Mubarashkina's younger son lives in Russian-occupied Pervomaisk. She hasn't seen him since the war started in 2014.
Risky way to school
Many houses in Zolote 4 are destroyed either by shelling or from decay. Its cemetery has a warning about the landmines. But the locals still risk burying their relatives on its edge.
A big slagheap from a non-working coal mine towers over the town's landscape. The soldiers are now positioned there.
The remaining infrastructure consists of a small local food shop, a partly abandoned building which hosts a post office and a first-aid post, and a school.
The school has its windows covered by half by with wooden boards. There are 48 children studying there from the 1st by the 9th grade.
Nina Kovalchuk, 63, every day guides her three grandchildren, of six, nine and 10-years-old, to this school from the area nearby. They walk along the destroyed bridge and a non-working railway to bypass the army checkpoint. In the afternoon she guides them back.
The entire way takes at least one hour, depending on the weather. When their group reaches the railways, the shootouts are distinctly heard all around them. But the family seems calm though the children complain they didn't sleep well last night because of shelling.
Kovalchuk said the soldiers live in every second house in the area where her family lives, so they got used to sounds of war. "I don't want to send the kids to another school because they like this one and the teachers are good here," she said.
The residents have recently found a dead body of some unknown man who had caught a booby trap on the railway. Kovalchuk said that trap was far away from the place where they usually go, so they should be safe.
'We are in front of all'
Three school teachers also go to work along the railway. One schoolgirl, who has to go to school across the checkpoint, has recently got under fire.
A school principal Halyna Yeremeyeva, 48, worries about all of them. Because of the ongoing escalation, the school classes and school breaks have been shortened to allow children come back home safely.
Yeremeyeva said that in case of serious shelling, it's safer to stay at school, whose brightly colored corridor also serves as a bomb shelter or a hall for parties depending on the situation.
Yeremeyeva calls her students "the children of war" and say they can easily tell the difference between the incoming and outgoing shelling.
"This war didn't make the children coldhearted. They became more mature, indeed, but they didn't become any worse," she admitted. Her talk at a school class was briefly interrupted by a loud sound from the closely exploded mine.
Yeremeyeva took charge of the school in the bloody 2014, agreeing on this in memory of her late mother, who worked there as a principle for 35 years.
By one of the versions, Zolote (golden from Ukrainian) was called so because of a high quality of the local coal, which was excavated there starting from 19th century.
After the Soviet Union collapsed, the town was gradually coming into decay. The residents mostly worked in the city of Pervomaisk located just in one kilometer from Zolote 4.
But after the war started, Zolote 4 became a destination for many people from Pervomaisk and other Russia-occupied cities. Now the town hosts 99 families of the internally displaced people.
Yeremeyeva said Zolote 4 was out of interest for both sides of the conflict until the government decided to construct a border crossing point near it at the end of 2015.
This brand new crossing point has never started its work as the Kremlin-backed forces want to establish a crossing point at another place.
Since then, each attempt of the Ukrainian side to open the crossing point in Zolote brings to the new escalation and new troubles for the frontline-located Zolote 4.
"It happened somehow that we are in front all," Yeremeyeva said.
Source: https://www.kyivpost.com/ukraine-politics/abandoned-forgotten-residents-zolote-take-daily-risks-living-war-front.html