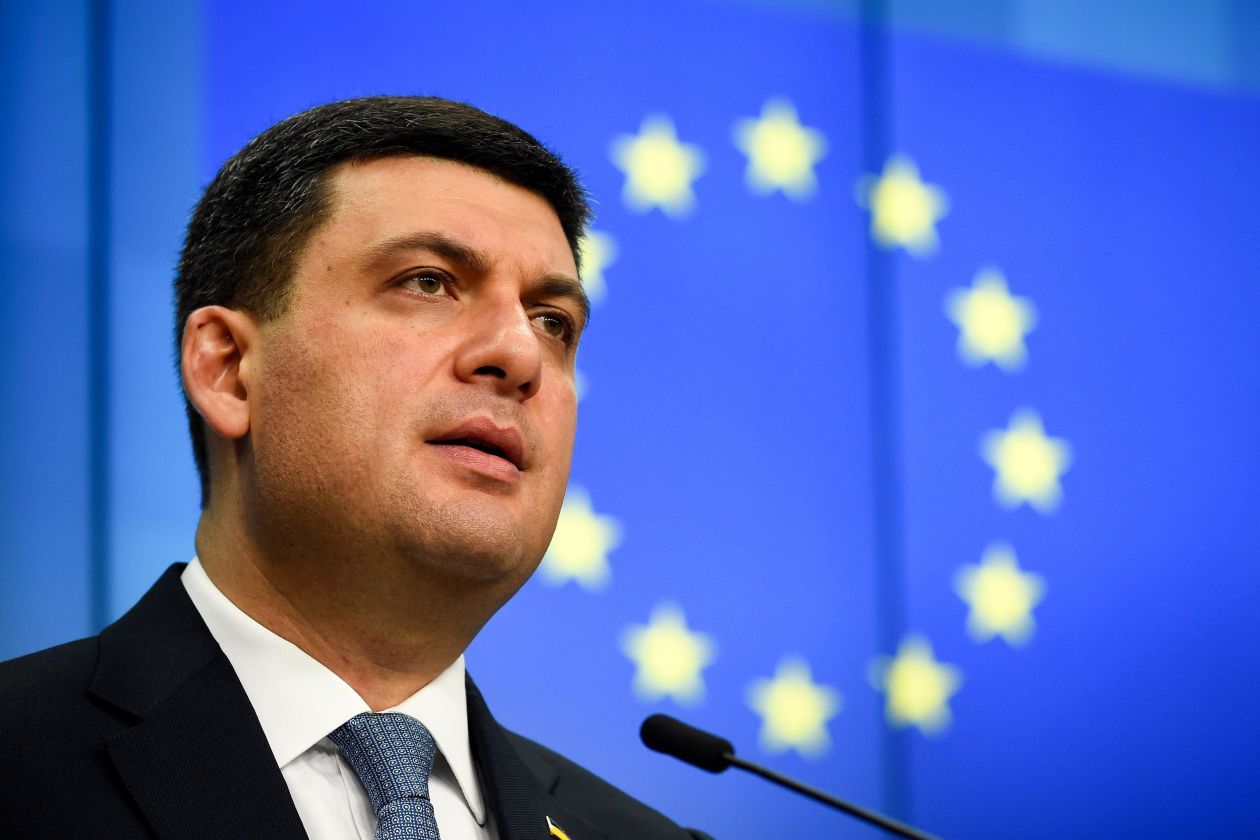 BRUSSELS—U.S. and Ukrainian officials called Monday for tougher measures against Russia over its seizing of three Ukrainian naval vessels in the Black Sea. The incident late last month caused Kiev to declare martial law but drew little more than condemnations from Western capitals.
Speaking to reporters Monday afternoon, Kurt Volker, the U.S. special representative for Ukraine, advocated, at a minimum, for targeted sanctions against certain Russian officials, while Ukraine Prime Minister Volodymyr Groysman backed combining those measures with broader economic sanctions.
European Union leaders last week condemned Russia's use of military force against Ukrainian vessels. They also demanded that Moscow release 24 Ukrainian sailors and restore the right of passage through the Kerch Strait, which connects the Black Sea to the Sea of Azov.
However, the EU, which is set to extend longstanding economic sanctions against Russia by another six months, has so far taken no action on the incident, which U.S. officials described as a reckless escalation of tensions between Ukraine and Russia. The EU imposed the sanctions in 2014 after Russia annexed Crimea and Sebastopol, but deep divisions within the bloc over its Russia policy have limited further significant pressure.
EU powerhouses Germany and France have hesitated to increase European pressure on Russia over the incident, with European diplomats saying their focus was on the release of Ukraine's sailors and the easing of tensions. EU foreign-policy chief Federica Mogherini said Monday the bloc was looking at fresh ways to help Ukraine's economy after disbursing half a billion euros of new loans to Kiev last week.
Washington has continuously escalated sanctions against Moscow over the last 18 months but hasn't imposed sanctions over last month's incident specifically.
Mr. Volker on Monday said Russia had given no indication it plans to stop using the Kerch Straits as a "choke point for access to and from" Ukrainian ports.
"It's something I think everyone is deeply concerned about," he said from Brussels. Mr. Volker said he had discussed increasing pressure on Russia with European officials on Monday and the idea seemed to be "gaining some traction."
"I would not be surprised to see that happen in the next month or two," he said.
In an interview with The Wall Street Journal on Monday, Mr. Groysman said it wasn't enough for the West to target a handful of additional Russian officials over last month's Azov Sea clash.
"I don't think this is adequate…The only adequate action that can be imposed is when this…is punishing and actually damaging the interests of the aggressor," he said, calling for combined economic and targeted sanctions.
Mr. Groysman said Russia's partial blockade of the Kerch Straits was designed, in part, to damage Ukraine's economic recovery ahead of nationwide elections in March 2019. He said Moscow's actions could inflict "billions of dollars of damage" at a time when Kiev is spending $7 billion a year on conflict with Russian-backed proxies in the country's east, and while the government faces large-scale domestic and foreign debt payments.
"I think the entire EU leadership here all understand the danger of Russia," Mr. Groysman said.
On Monday, Russian Foreign Minister Sergei Lavrov said that Moscow would respond in kind if Ukraine carried out what he called provocations near Crimea, according to Russian news agency Tass.
Mr. Lavrov claimed Ukraine is planning an "armed provocation" in the final days of the year, Tass reported. Russia has said Ukraine is building up forces in eastern Ukraine while Kiev has accused Russia of massing troops near its border.
At a press conference in Brussels, Mr. Groysman hit back at the allegations, saying Mr. Lavrov had "invented this story."
"Ukraine never, ever, anywhere sparked any provocations, any incidents... Meanwhile what happened in the Azov Sea was a brutal attack of the Russian armed forces against our sovereign state," he said.