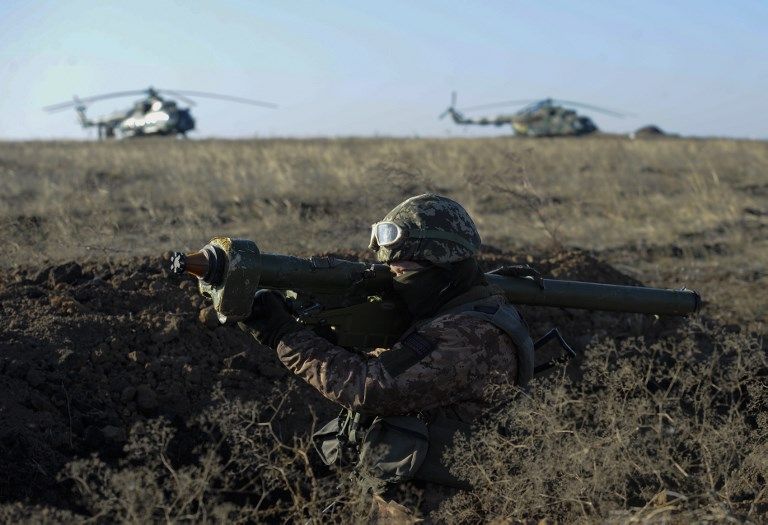 Blockaded at sea, surrounded on land and surveyed from the air, Ukraine is set to face yet another Christmas and New Year in the shadow of looming Russian aggression.
Following the Nov. 25 attack on Ukrainian vessels in the Black Sea's international waters, in which three boats were seized and 24 Ukrainian sailors captured, Russia has mobilized more of its forces in Crimea and on Ukraine's eastern border asexperts warn that further military aggression seems likely.
In the final days of November, Ukraine implemented limited martial law and put its armed forces on high alert, preparing itself for further aggression. But the weak response so far from Western countries following the Black Sea attack could have created favorable ground for Russian President Vladimir Putin to take further military action in Ukraine's east and south, without fear of serious consequence.
Since Russia illegally annexed the Crimean peninsula and invaded Ukraine's east in 2014, up to10,500 people have been killed, including almost 3,000 Ukrainian soldiers, while at least 94 citizens of Ukraine have been taken as political prisoners, kept in jails of Russia and Russian-occupied Crimea.
In May, Moscow finished the construction of its Crimean bridge that runs across the Kerch Strait, connecting Russian territory and Crimea. Since then, Russia has effectively launched a new offensive and taken control of the strait, delaying Ukrainian and international vessels in what some Western lawmakers have called a "slow strangulation" of the Azov Sea.
Read also: Russia's latest naval attack continues years of aggression in Black Sea
Read also: Ukraine navy chief: If Russia attacks again, we are ready 
In response to that, and the Nov. 25 aggression, Ukraine implemented martial law in 10 oblasts bordering Russia, the Black and Azov seas, as well as Moldova's breakaway Transnistria region, where Moscow has stationed troops since 1992.
Shortly after, Ukrainian President Petro Poroshenko claimed that Russia was mobilizing its military forces near Ukraine's eastern border. According to the president and Ukraine's security services, Russia has over 80,000 troops both in Russia near the Ukrainian border and on Russian-occupied, Ukrainian territories. Ukraine's Ministry of Foreign Affairs has also reported that Russia recently brought Iskander missile systems to its borders with Ukraine and relocated around 100 warplanes in Crimea.
Since martial law came into effect on Nov. 28, Ukraine has taken a number of steps to strengthen its defense. The defense ministry created councils in the 10 oblasts under martial law, held military exercises and re-deployed the Ukrainian Air Assault Forces to the most dangerous areas along the Ukrainian-Russian border.
In addition, Ukraine earlier passed the budget for 2019 boosting spending on defense and security but experts are still warning that Ukraine and its Western allies are dangerously under prepared for a new, Russian offensive.
Dangerous predictions
According to the Institute for the Study of War, or ISW, Ukraine is correct in bolstering its defenses: the think tank also reports that Russia continues to build up and prepare its military forces for possible offensive operations against Ukraine, from both the Crimean peninsula and the east.
"It remains impossible to assess whether Russian President Vladimir Putin has decided to launch an offensive or will do so, or whether the visible military preparations are intended to pressure Ukraine and its partners without escalating to additional open conflict," their recent report reads.
The ISW says that all the evidence suggests that Putin is preparing to attack.
The fact that Russia maintains a blockade of Ukrainian ports in the Azov Sea and mobilizes forces on the Ukrainian borders point to possible military actions, ISW experts have concluded. 
The report claims that another sign of an impending attack is that Russia has increased its propaganda activities, using false information to fuel dissent and create confusion, while other experts warn that Russian intelligence has seriously stepped up its activities throughout Ukraine. 
"The Kremlin is flooding the information space with false warnings that indicate its intentions to spread fear about an upcoming attack. The Russian Foreign Ministry claimed that Ukraine and the West are planning imminent attacks in Donbas," the ISW report reads.
The ISW says that the attack might come from the northern Crimean peninsula toward the Dnipro River, near Kherson, a city of 290,000 people some 550 kilometers south of Kyiv. The report suggests that the move could be intended to seize the North Crimean Canal supplying fresh water to Crimea, which Ukraine has blocked since 2014.
"Putin would likely unjustifiably claim the right to invade to stop a humanitarian crisis resulting from the blockage of the canal. Such a claim has no legal validity since Crimea remains legally part of Ukraine over which Russia has no rights, and thus the status of the canal is, in law, an entirely internal Ukrainian matter," the report reads.
"A Russian occupation of Kherson would allow Russian forces to interfere with — and possibly cut off — ship movement into and out of Mykolaiv, one of Ukraine's most important ports and shipbuilding centers. Such a development, together with the illegal seizure of Sevastopol and aggression around the Kerch Strait, would leave Ukraine only a single major port (Odesa) outside the Russian area of military influence," the report continues.
Michael Carpenter, a senior director with the Penn Biden Center for Diplomacy and Global Engagement said that the world should watch out for a Russian military incursion into Ukraine next year.
In his Twitter post on Dec. 23, Carpenter, just like the ISW, assumed that Russia might target the North Crimean Canal.
Carpenter also said that Russia might seek complete dominance over the Sea of Azov and Kerch Strait in 2019.
Weak Western reaction
After the Black Sea attack, Ukraine called on the West for a strong response to Russia.
Instead, however, it received the regular statements and tweets of condemnation and solidarityfrom leaders of Western countries and international organizations.
The General Assembly of the United Nations passed a resolution on Dec. 17 calling on Russia to withdraw its troops from Crimea and condemning growing Russian military presence in the Black and Azov seas.
The European Parliament, in a resolution passed on Dec. 12, suggested a strengthening of economic sanctions against Russia. In almost five years of war, the old measures first put in placein 2014, have had a debatable impact on Moscow.
On Dec. 21, the European Union formally agreed to extend the economic sanctions against Russia for six months, but no new measures have been approved.
In reaction to the attack, the United States made a decision to provide an additional $10 million in Foreign Military Financing to further build Ukraine's naval capabilities.
British lawmakers, including the country's secretary of defense, paid a visit to Odesa and the cities of Mariupol and Berdiansk on the Azov Sea, just as HMS Echo, a Royal Navy warship entered Ukrainian waters of the Black Sea to undertake freedom of navigation manoeuvrers alongside the Ukrainian navy.
Read also: UK lawmakers conclude visit to "strangled" Azov Sea
But international observers and analysts are still saying that the West's response has not been robust enough to deter further Russian moves against Ukraine, and that a weak reaction to further, Russian violations of international law has sent a signal to Moscow that it would remainunpunished in the case of further military aggression.
U.S. President Donald Trump fueled further concerns when he announced, on Dec. 20, that he would withdraw troops from Syria – a move that some analysts have said surrenders the country to Russian dominance. 
An ally of Syrian President Bashar al-Assad, Putin, whose troops have been involved in the Syrian war since 2015, welcomed Trump's decision. While Trump keeps acting in contradiction to his own experts' opinions, Putin might use the confusion in the White House to cement his interests in the Middle East and North Africa, while also launching a fresh incursion intoUkraine.
Read also: British defense secretary in Odesa: Ukraine doesn't stand alone
Read also: With land war frozen, new battlefront opens at sea