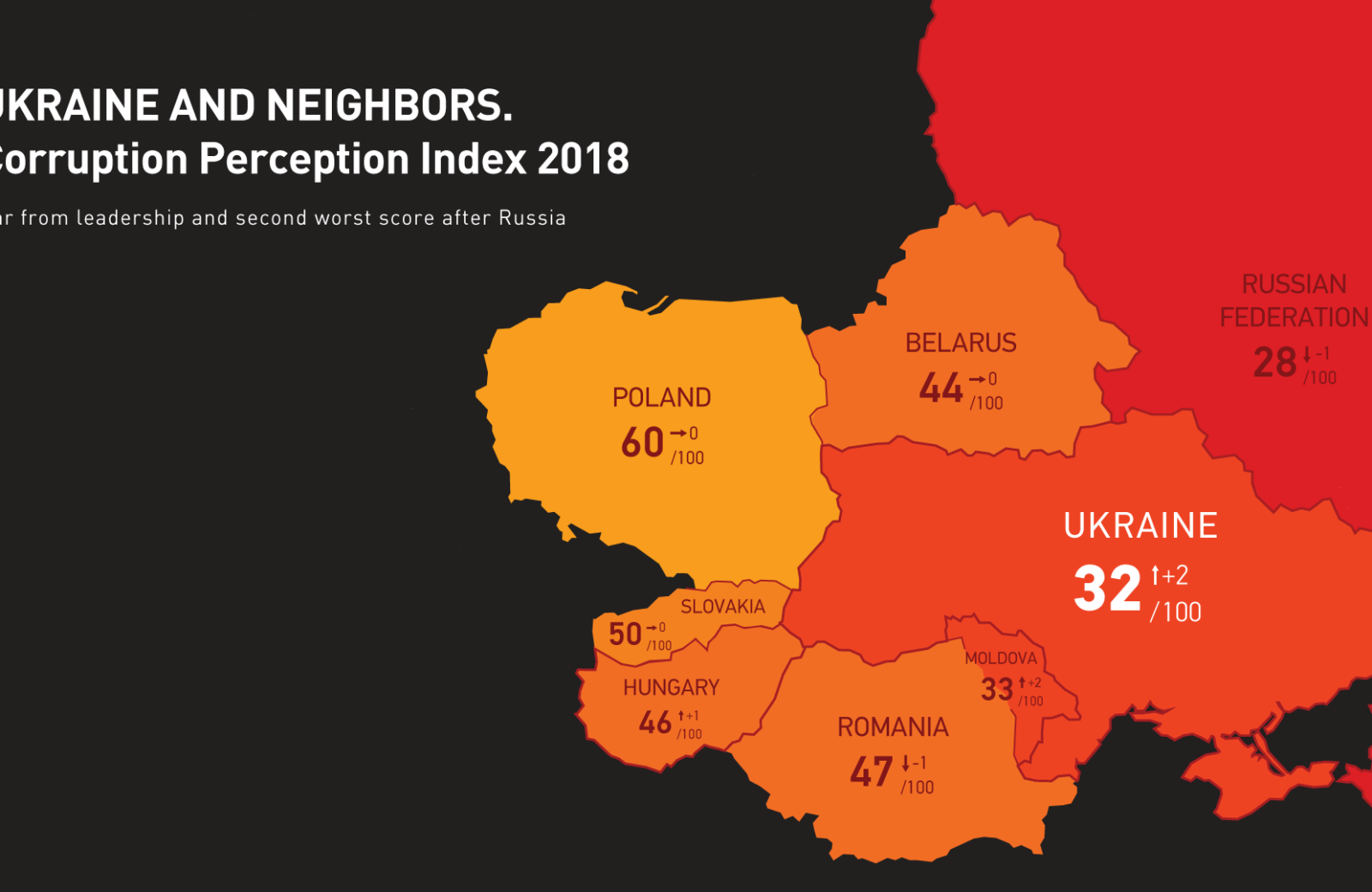 Ukraine is not as corrupt as it was a year ago, but it's still the second most corrupt country in Europe after Russia, according to anti-corruption watchdog Transparency International.
According to the organization's Corruption Perception Index for 2018,  which was released on Jan. 29, Ukraine has risen 10 places to 120th. Ukraine scored 32 points out of 100 — two more than in 2017.
The Corruption Perception Index is an annual report created by Transparency International, first published in 1995, which measures the level of corruption in a country's public sector. The index is a summary of 13 competitive studies conducted by various international organizations, which are merged to create a single corruption guideline.
Andrii Borovik, executive director at Transparency International Ukraine, in a comment to Kyiv Post, said the score is more important than the country's place in the ranking.
According to Borovik, the two additional points are most likely the result of Ukraine's friendlier attitude to business – a transparent VAT reimbursement system and the launch of ProZorro.Sale, an electronic auction system designed to sell state property.
However, Ukraine still ranked second last among European countries, beating only Russia for the second year in a row.
Ukraine has gained a total of seven points in the index since 2013, but progress has been disappointingly slow, said Borovik.
"(Since) 2014 we've started a lot of positive initiatives that were created to decrease the level of corruption in the country," he said.  "Bet it's hard to see any final results, with such results being the imprisonment of corrupt high-ranking officials — the so-called big fish."
For Ukraine to make more progress in the next ranking, Borovik said it would have to launch the long-awaited anti-corruption court, while overhauling the National Agency for Corruption Prevention, which he said currently lacks impartiality and objectiveness. The creation of an automatic, electronic system for checking e-declarations is also a must, he said.
However, Borovik said it was highly unlikely that these and other crucial steps would be undertaken during an election year — Ukrainians go to the polls on March 31 to elect a new president, and parliamentary election are due to be held in October.