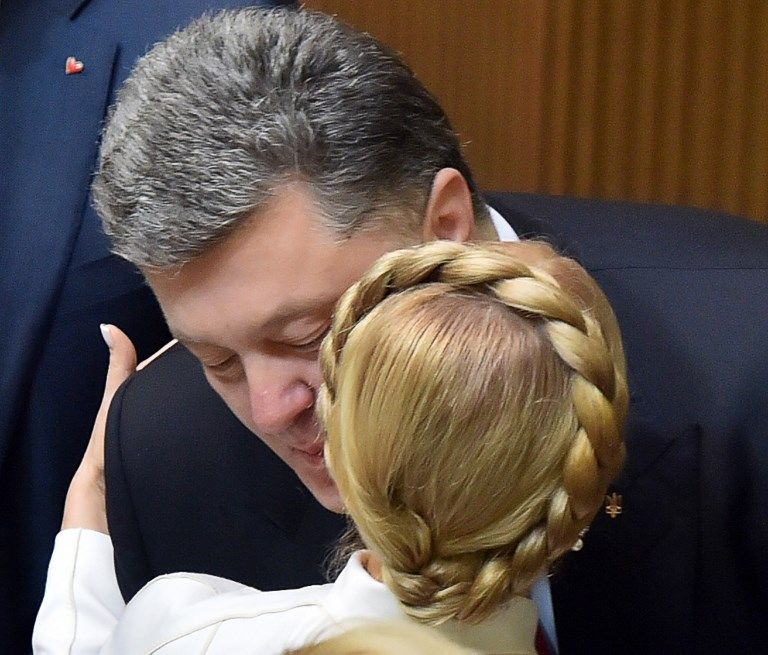 Former Prime Minister Yulia Tymoshenko overtook President Petro Poroshenko and vaulted into second place with 18.3 percent vs. the incumbent's 16.8 percent, according to the new poll by Rating sociological group published on March 11.
The leading position remains with political satirist and actor Volodymyr Zelenskiy, who has 24.7 percent. This result is slightly lower than his rating at the end of February, when he had 25.1 percent of support, according to the previous poll by Rating.
The poll measured those who said they will vote on March 31 and who have made up their minds about whom to vote for.
The poll was conducted on March 1-7, after the country was hit by a corruption scandal when Nashi Groshi investigative journalists revealed massive embezzlement in defense sector allegedly conducted by Poroshenko's long-term ally Oleh Hladkovskiy and his son Ihor.
Following the scandal, Poroshenko fired Oleh Hladkovskiy, who denies any wrongdoing, on March 4 from the post of deputy head of the National Security and Defense Council.
The new poll also showed a rise in the rating of Anatoliy Grytsenko, a former defense minister who campaigns as an honest candidate untainted by corruption. Grytsenko's rating increased to 10.3 percent, which allowed him to overtake pro-Russian candidate and member of parliament Yuriy Boyko, a former energy minister, who has 9.9 percent.
Last week, several candidates, including Lviv Mayor Andriy Sadoviy, former investigative journalist Dmytro Gnap, and lawmaker Dmytro Dobrodomov withdrew their candidacies for the presidency and publicly supported Grytsenko, which could also explain his boost.
There were 5,000 people polled in face-to-face interviews.
With the front-runner ahead by six percentage points over his nearest rival, the main fight is for second place and getting into the April 21 second-round runoff.
Timothy Ash, a London-based political and economic analyst, said the recent Constitutional Court decision to decriminalize illegal enrichment could also likely hit Poroshenko's rating and help Tymoshenko.
"Let's see whether this corruption Constitutional Court ruling stuff proves terminal to Poroshenko's campaign," he said.