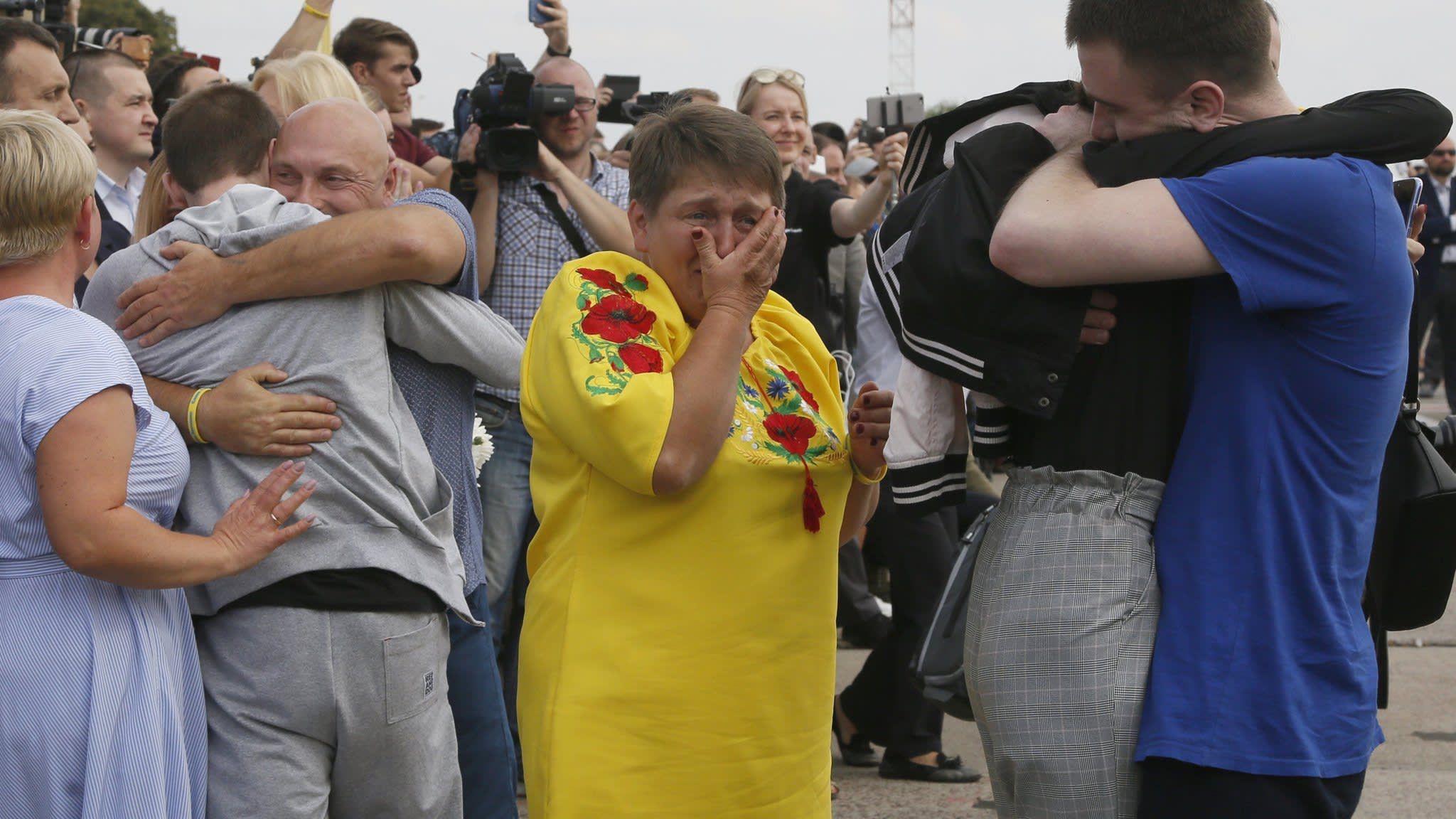 Please use the sharing tools found via the share button at the top or side of articles. Copying articles to share with others is a breach ofFT.comT&Csand Copyright Policy. Email licensing@ft.comto buy additional rights. Subscribers may share up to 10 or 20 articles per month using the gift article service. More information can be found here. 
https://www.ft.com/content/436b3386-d7a7-11e9-8f9b-77216ebe1f17

Ukraine is looking to exchange hundreds more prisoners with Russia as it seeks to pave the way for revived peace talks with Moscow to end the conflict in the eastern Donbas region, according to Ukrainian officials. Andriy Yermak, Ukraine's chief negotiator, told the Financial Times that Kiev wanted to swap all Russian detainees held in Ukraine in connection with the fighting for the more than 100 Ukrainians in jails across the border, as well as a further 227 held captive by Moscow-backed separatists. "First we will find each Ukrainian person held in Russia and the territories not controlled by Ukraine, then we will [exchange them] according to the principle of all for all," Mr Yermak said. Moscow and Kiev earlier this month exchanged scores of prisoners in a goodwill gesture that Kiev hopes will lead to the first face-to-face peace talks between new president Volodymyr Zelensky and his Russian counterpart Vladimir Putin together with the leaders of France and Germany later this month. The release of celebrated Ukrainian film-maker Oleg Sentsov and 24 Ukrainian sailors captured by the Russian navy near the Kerch Strait last year was a cause for celebration in Kiev. "We couldn't let these people down. They had been unfairly convicted, we obviously had to return them home and had no right to drag out the process," said Ivan Bakanov, a businessman who ran Mr Zelensky's TV production company and who is now head of the Ukrainian security service, the SBU. The move is part of an effort by the new Ukrainian government under Mr Zelensky to build goodwill with the Kremlin and the Russian-speaking population in the Russian-backed separatist-held parts of Donetsk and Lugansk provinces. Kiev has unilaterally pulled back its forces from the town of Stanytsia Luhanska and is poised to do so in two other places before disengaging from the entire 400km frontline. It has cleared minefields and dismantled fortifications, and is preparing to make it easier for locals behind the lines to draw their pensions. But foreign minister Vadym Prystaiko cautioned that disputes over whom to consider a prisoner were a likely sticking point in future talks. "The principle of all for all is ideal . . . but we are not expecting it to happen," he said. Ukraine also believes that as many as 500 of its citizens listed as missing in action are being detained by the Russian-backed militants, he said. Mr Zelensky, who has made peace his priority, is determined to try a new approach to break the deadlock that prevailed for three years under his predecessor Petro Poroshenko. "We are very different people," said Mr Yermak. "We are open, we are transparent, everything is on the table." The outlines of a peace deal to end the fighting in eastern Ukraine were agreed in Minsk, the capital of Belarus, in 2015 but the agreement has not taken hold largely because Russia failed to follow through on its undertakings to end the fighting and pull back its forces.
Please use the sharing tools found via the share button at the top or side of articles. Copying articles to share with others is a breach ofFT.comT&Csand Copyright Policy. Email licensing@ft.comto buy additional rights. Subscribers may share up to 10 or 20 articles per month using the gift article service. More information can be found here. 
https://www.ft.com/content/436b3386-d7a7-11e9-8f9b-77216ebe1f17

Mr Zelensky has spoken to Mr Putin three times since taking office in May. Hopes are rising that the Kremlin, burdened by sanctions and the cost of a low-level conflict in Ukraine, will engage in fresh talks, despite its insistence on Friday that the terms of autonomy offered to the two regions is agreed in advance. In this month's exchange, Russia sidelined Vladislav Surkov, architect of much of its Ukraine policy, and longtime Putin proxy Viktor Medvedchuk, who negotiated three previous exchanges, in favour of Kremlin aide Dmitry Kozak, which Ukrainian officials took as a sign of Moscow's new willingness to negotiate. Mr Zelensky's officials hope his fresh approach, reformist zeal and an economy on the rebound have created a new dynamic with Mr Putin. "These are powerful weapons," Mr Yermak said. The former comedian, whose TV show was as popular in Russia as in Ukraine, is an unknown quantity for the Kremlin. The Russian leader would be "discombobulated," said one western diplomat. "The beauty of him is he's out of the system in a good way. He sometimes doesn't understand the restrictions of formal diplomacy," Mr Prystaiko said. Mr Zelensky's opponents and some western diplomats also fear that in a rush to cut a deal with Mr Putin — with French president Emmanuel Macron pushing for a reset in relations with Russia — he could make concessions that undermine Ukrainian security. Kiev's decision to hand over Volodymyr Tsemakh, a key suspect in the shooting down of Malaysia Airlines flight MH17 in July 2014 was criticised by European officials and members of the outgoing Ukrainian government as a big concession to the Kremlin. Mr Bakanov defended the decision, which Ukraine says was made a non-negotiable condition of the exchange by Russia. "The lives of Ukrainians are priceless. People have been exchanged in much less favourable conditions," he said. The sudden diplomatic flurry has surprised even Ukraine's western allies, Mr Prystaiko said. "Macron said: 'So, Putin is picking up the phone? And Zelensky said, 'Yeah, what's so cool about it? I'll call him again tomorrow because I want to exchange people!'"